Special Events
---
CFMA Philadelphia Leadership Acceleration Program
Our Leadership Acceleration Program is a brand new program offered for CFMA members! 1 hour classes are lead by different speakers each week, followed by a 30 minute breakout session where participants can discuss successes and challenges they are facing in the industry. The program also includes a PI behavioral assessment & 1-on-1 coaching session, a team building event, a networking event, and a graduation celebration. All participants are awarded a certificate and 8 CPE credits for participating. Click here to download the program brochure, for all details including program dates, class descriptions, and registration details.
Applications can be submitted through our google form application at:
https://forms.gle/gxqkpBL96oyeVB5e8
Application deadline has been extended to Friday, September 30th, 2022
We will hold 2 Q&A Microsoft Teams meetings at the following times: Wednesday, September 21st at 2:00 PM and Thursday, September 22nd at 3:00 PM. Committee Chair, Sarah Stewart, will be hosting this session and available to review any questions or concerns you or potential applicants may have. Sign up here to receive the call link.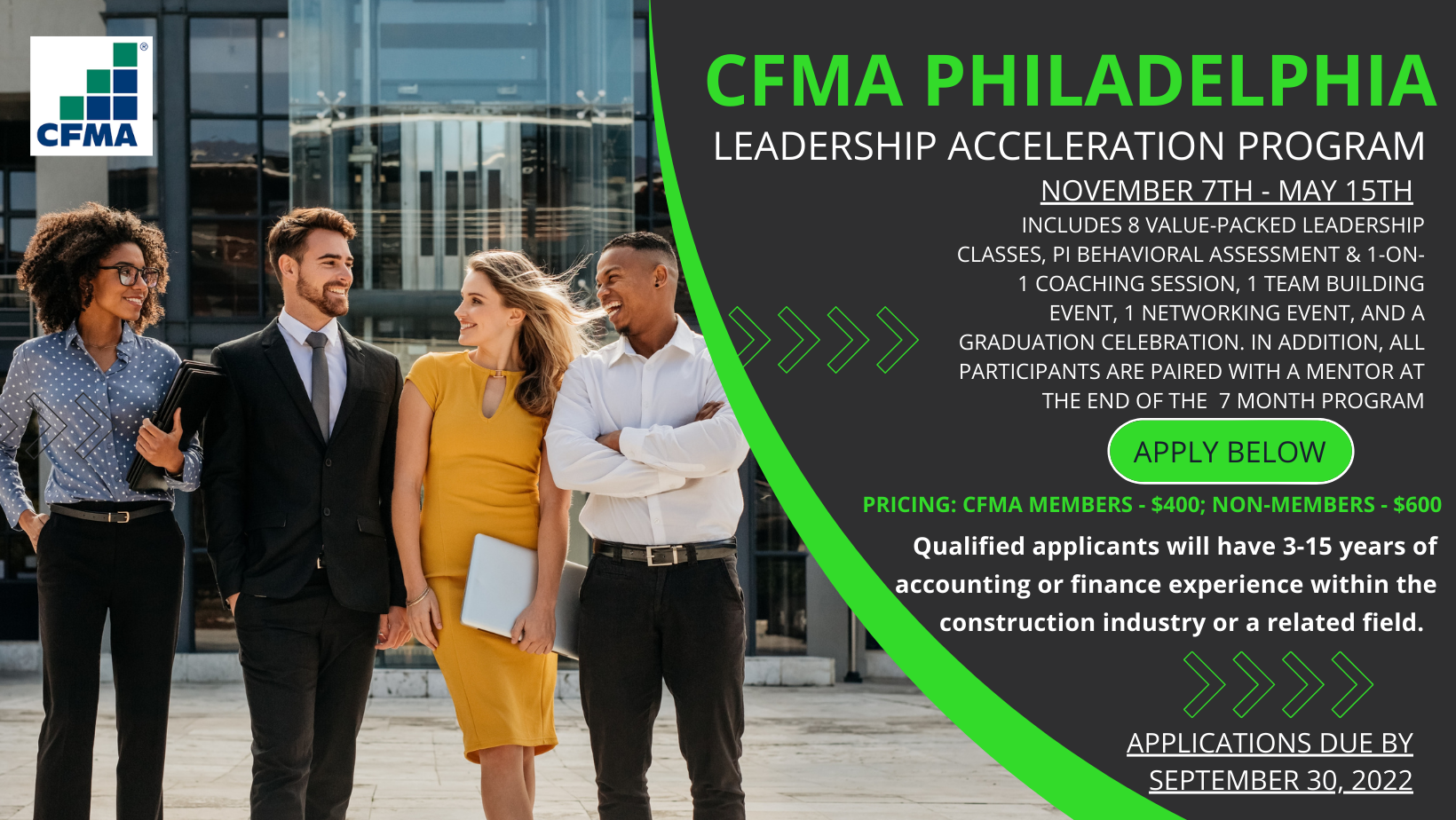 PROGRAM SCHEDULE
Class #1: Self Awareness as a Leader
Date: Monday, November 7th, 2022
Time: 4PM - 7 PM
Location: Outward Bound's Discovery Center- Philadelphia, PA
Class #2: Management vs. Leadership
Date: Monday, November 28th, 2022
Time: 5:30PM- 7 PM
Location: Plymouth Meeting, PA
Class #3: Understanding the Why
Date: Monday, December 12th, 2022
Time: 5:30PM- 7 PM
Location: Plymouth Meeting, PA
Class #4: Communication to Stakeholders Pt. 1
Date: Monday, January 9th, 2023
Time: 5:30PM - 7 PM
Location: Plymouth Meeting, PA
Class #5: Communication to Stakeholders Pt. 2
Date: Monday, January 30th, 2023
Time: 5:30PM- 7 PM
Location: Plymouth Meeting, PA
Class #6: Efficiency vs. Effectiveness
Date: Monday, February 20th, 2023
Time: 5:30PM- 7 PM
Location: Plymouth Meeting, PA
Class #7: Speed Networking Event
Date: Monday, March 13th, 2023
Time: 5:30PM - 7 PM
Location: TBD (Philadelphia Suburbs)
Class #8: Company Culture
Date: Monday, April 3rd, 2023
Time: 5:30PM- 7 PM
Location: Plymouth Meeting, PA
Class #9: Why Trust Matters
Date: Monday, April 24th, 2023
Time: 5:30PM- 7 PM
Location: Plymouth Meeting, PA